I Was Just Served With Divorce Papers. Now What?
Feb. 7, 2022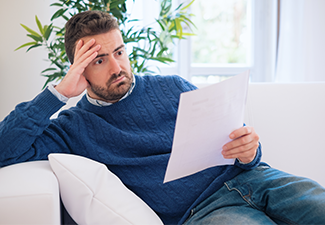 When you tie the knot with the love of your life, you're typically not thinking about the possibility of divorce down the road. However, with nearly half of all marriages ending in divorce or separation, it's an outcome that many of us may have to contend with. Even under amicable terms, a divorce can be a traumatizing and life-altering event. But, when a divorce comes out of the blue, it can send you reeling.
If you've recently been served with divorce papers, you may feel lost, hurt, and confused about what to do next. These are all-natural reactions, and during this time, you should try your best to remain calm and avoid making any rash decisions that may involve your children, joint assets, or moving out of town. If you're in this situation and need help, contact The Law Office of Glen A. Norton PLLC in Minnetonka, Minnesota, for compassionate and professional legal advice. ​​
Your Responsibilities After Being Served Divorce Papers
If you're served divorce papers (called a "Summons and Petition for Dissolution of Marriage"), you have two choices. You can choose to not do anything, or you can issue a response, but this must be done within 30 days of receiving the summons. If you ignore it, then the divorce will proceed and a court will likely grant the terms that your spouse has laid out in the summons.
In either case, you may find it helpful to consult with an experienced divorce attorney to ensure you understand all aspects of the petition before deciding how to proceed. This petition will lay out your spouse's requests for dividing marital assets, child custody, child support, and whether any alimony will be paid.
Issue A Response
It's usually in your best interests to issue a response to a divorce summons to ensure your needs are being met. The first thing you must decide is if you agree or disagree with the requests in the petition. If you agree, then you may have what's called an uncontested divorce which generally proceeds more smoothly and quickly. However, if you disagree, then you will likely be entering into a contested divorce.
Even with an uncontested divorce, you'll still have to work together with your spouse to fill out any remaining details and you'll both have to sign the final documents. If you choose to contest your spouse's petition, you will have some work ahead of you.
Gather Required Information and Documents
If you're contesting the petition, you should then begin organizing documents and deciding what exactly it is you're requesting be altered. During this process, you'll also be able to exchange and request information from your spouse on anything relating to divorce, such as business documents, statements from investments or bank accounts, and tax returns.
This process is called "discovery." If you're on good terms with your spouse, you may be able to complete this on your own. However, you may find a divorce attorney can be helpful by giving advice, making the requests on your behalf, or working collaboratively with both spouses.
How Legal Counsel Can Help
If you've just been served with divorce papers, or even if you already obtained a legal separation and now need help following through with a divorce, reach out to The Law Office of Glen A. Norton PLLC in Minnetonka, Minnesota. Glen A. Norton has over 25 years of experience helping Minnesotans and believes in pursuing a collaborative divorce model whenever possible.
Divorce is hard, but it can also provide the foundation for starting a new and better life. Call today to set up a consultation whether you're in Minnetonka or elsewhere in the state, including Hennepin County, Plymouth, Maple Grove, Wayzata, and Eden Prairie.